The Best Parts of Marriage
READ TIME: 6 MINUTES
To wrap up this month of love, I'd like to tell you about the parts of marriage I'm enjoying the most. It changes from season to season, but these are the ones that have been truest throughout our first two years of marriage.
I can let all my crazy fly

I'm known

I'm loved

Dreaming together
I can let all my crazy fly
For me, one of the indisputable best parts of marriage is that Russell is stuck with me. He made a promise in front of God that he would love me until one of us passes away. Which means I can let down all my walls, be completely vulnerable, and let him into parts of my mind & heart that I've never allowed anyone else to enter.
It doesn't mean that this level of vulnerability is natural or normal. As smart, self-preserving creatures, we naturally hide the darkest parts of our lives and try to solve all own own problems. Which is why by-and-large, we usually don't know about our friends' & family's deepest struggles. We don't know which of our friends fall into these stats:
Did you know that nearly all of your friends are in a worse financial situation than they appear?
We naturally cover up our issues, even to the people closest to us. It's normal in today's society to strive for autonomy, even within marriage. In today's culture, "normal" means getting married, falling out of love, becoming roommates for life or divorcing.
Christians aren't called by God into natural or normal ways of living. God calls and equips us for the supernatural, abundant life that Jesus promised through the Holy Spirit. In Christian marriage, that means allowing our spouses to see and help our heaviest burdens.
However…
Endure and carry one another's burdens and troublesome moral faults, and in this way fulfill the law of Christ… (v.2)
We are each responsible for our own conduct. (v.5)

Galatians 6
I still have to bear my own emotions daily, and my husband is directly affected. When I keep my walls up from him, my friends, and my therapist, he suffers. When I make him out to be my only source of friendship, he suffers. When I struggle with deep burdens all alone, he suffers.
How to let your walls down:
One major mindset shift that needs to occur — especially in The Church — is to view the wedding as the start line, NOT THE FINISH LINE! Just as you wouldn't start a marathon and try to "auto-pilot" the first few miles, we shouldn't auto-pilot our first decade of marriage. In fact, research shows that the course of a marriage is set in the first two years.* The societal norm is to passively enjoy the newlywed season — we're FINALLY married! (Ahem, technically you haven't had any real challenges yet…) Instead, newlyweds should be setting the course of their marriage. Dive into those vulnerable, uncomfortable talks about family dynamic, sex, careers, finances, etc. By choosing to discuss those things which you don't agree on, you're drawing near to each other, rather than sweeping those little problems under the rug and allowing them to fester.
I'm known
It's both freeing and terrifying, isn't it? Russell sees me completely. It means the world to me that he knows I'm doing my best to obey the Lord. I'm content knowing that he can recognize my not-so-charming qualities and pray for me to grow out of them, rather than seeing them and running away. That's marriage: seeing the worst, believing the best, forgiving & forgetting, choosing to run toward your spouse when all natural logic and normal cultural ways say "get out!"
Therefore a man shall leave his father and his mother and hold fast to his wife, and they shall become one flesh. And the man and his wife were both naked

and were not ashamed

.

Genesis 2
However…
Russell knows me better than anyone on earth, but I am only fully known by God, my creator. God designed me, He sees every action, and He knows every thought. He is the only one who will ever FULLY know me. If I don't acknowledge God's role in knowing me, I will always be longing to be known by the wrong people in the wrong ways. When I let God take His rightful place in knowing me intricately, Russell doesn't have to bear the pressure of fully knowing me. That's a relief, considering he only noticed my lip freckle after we were married 1.5 years… (TRUE STORY!)
I'm loved
It's the most disarming thing for me to let my walls down and allow Russell's love to move me. For me to get too much joy from his love means he could rip my heart out and devastate me. But that's the only way to experience marital love: like a freefall. Any stakes you pitch to keep you from the freefall will only prevent you from experiencing the life-changing power of love.
Here's how King Solomon described the power of marital love:
Love is as strong as death,
its jealousy as enduring as the grave.
Love flashes like fire,
the brightest kind of flame.
Many waters cannot quench love,
nor can rivers drown it.

Song of Solomon 8
However…
I've seen so many spouses who never allowed their spouse's love to mean what it should. It always competes with parental love and friends' love and career ambitions. Marital love is a delicate thing. It won't compete, but it will wither from neglect. As a married person, your lesser priorities shouldn't compete with your spouse.
By the way, your priorities aren't shown by a list of intentions. Your priorities are shown by how you spend your time. When you're having dinner with your spouse, and you allow your mind to wander to other things instead of listening to him/her, that's a reflection of misaligned priorities. Turning off your phone when you're spending quality time together… that's how you show it. Get your priorities in order, and each part of your life will soon follow.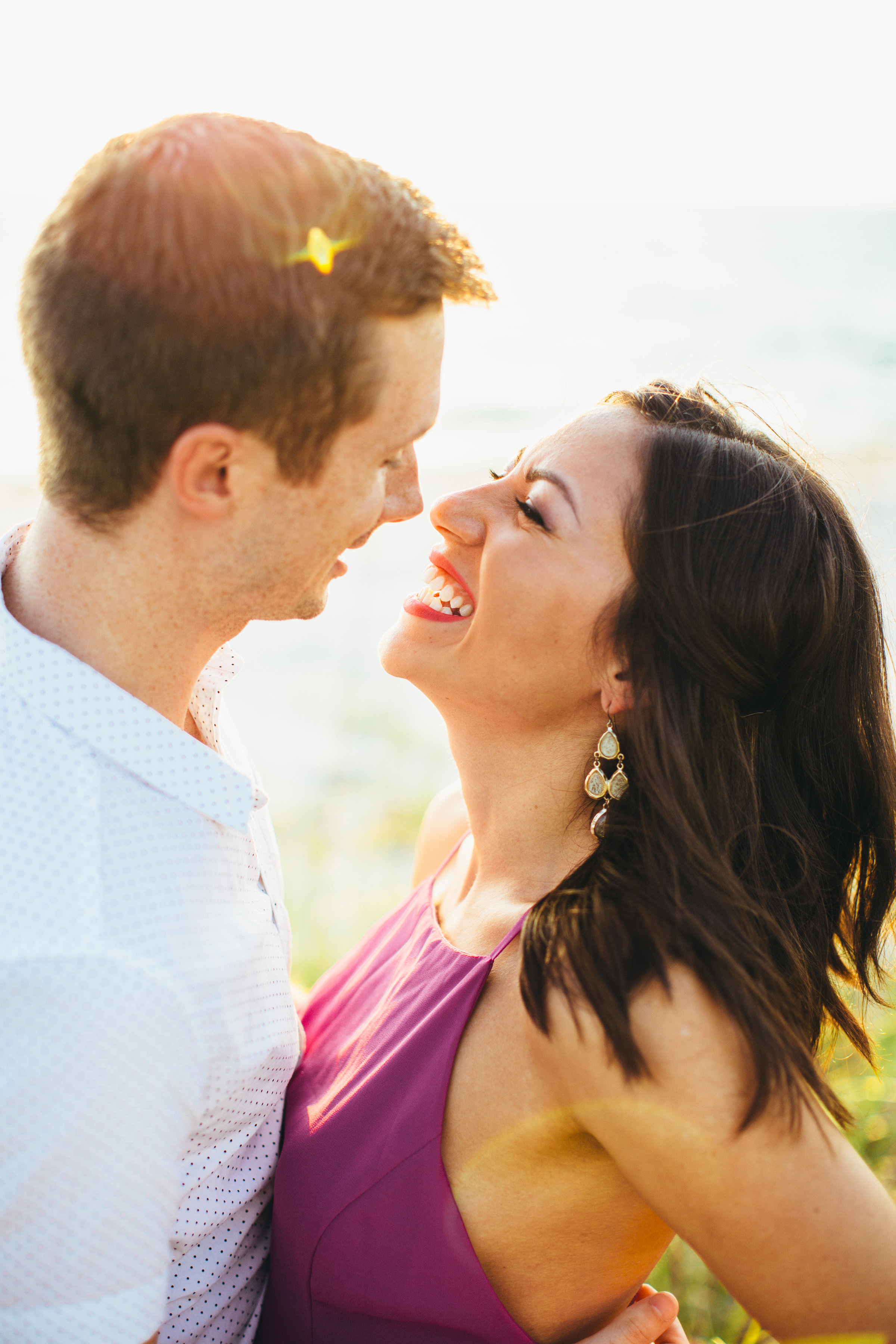 Love flashes like fire, the brightest kind of flame.
Song of Solomon 8
Dreaming Together
My favorite aspect of our relationship right now is our dreaming together. We spend a lot of time talking about our future and making plans to create the world we desire for our family.
Then the Lord God said, "It is

not good

that the man should be alone; I will make him a helper fit for him."

Genesis 2
However…
As Rachel Hollis emphasizes: Some dreams are still YOUR dreams. Support from your spouse is expected, but you decide if you'll keep breathing life into your dream. While Russell supports my dream of being a writer, he's not the one who does the work. If I never develop my craft, it's not on him. It's on me. I can communicate that I need more encouragement or involvement from him but at the end of the day, my dreams are what I make of them.
Russell and I have dreams together, and I have personal dreams. Whichever I'm focused on, I'm the only one who can decide how much energy I put into it. But the truly extraordinary thing about marital partnership is that when I put 100% into our partnership goals, Russell is energized to do the same, which energizes me, too. Christian marriages are a very powerful force! When we truly get on the same page with our God-given dreams, there's tremendous momentum between the two of us.
These are the best parts of marriage for us right now: Letting all the crazy fly; being known & loved; and dreaming together.

I'd love for your opinion in the comments! If you plan to get married, what do you most look forward to? If you're married, what are the best parts for you & and how long have you been married?
With love,
All of the photos were captured by Benjamin Hewitt Photography.
Sources:
78% of workers live paycheck-to-paycheck:
www.cnbc.com/2019/01/09/shutdown-highlights-that-4-in-5-us-workers-live-paycheck-to-paycheck.html

1 in 5 people experience mental illness, 60% of which goes untreated:
www.nami.org/learn-more/mental-health-by-the-numbers

$135,000 is the debt load of the average household:
www.nerdwallet.com/blog/average-credit-card-debt-household/

39% of marriages end in divorce:
www.time.com/5434949/divorce-rate-children-marriage-benefits/

The course of marriage is set in the first two years:
www.verywellmind.com/setting-marital-stage-first-two-years-2300847